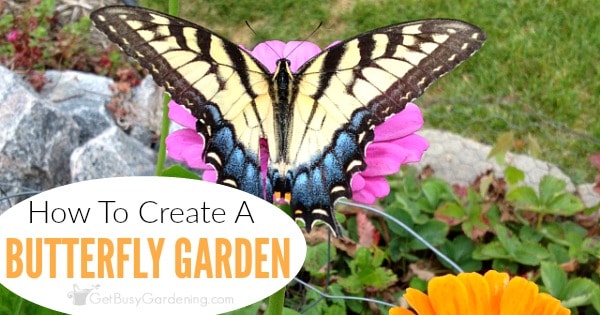 One of the greatest joys of gardening is watching butterflies floating around from flower to flower. It's one of my most favorite things about summer! Well I have some great news for you… it's not difficult to fill your flower garden with butterflies, it just takes a bit of planning. Keep reading to find out how to create a butterfly friendly garden.
Butterfly gardens are super popular these days. I get tons of questions from readers asking for tips and advice about starting a butterfly garden, and how to choose good plants.
That's why I've teamed up with All-America Selections (AAS) to show you how to create a butterfly friendly garden with fantastic plants. AAS makes it super easy to choose high quality plants that will thrive in your garden!
Choosing The Best Flowers To Attract Butterflies
If you want to make choosing the best butterfly garden plants a no brainer, I highly recommend looking for plants (or seeds) with the All-America Selections logo on them.
AAS has trained, professional judges that put plants to the test every year. They only select the best performing plants to award the AAS designation, so we can be sure we're getting the best quality plants butterflies will love.
Filling Your Flower Garden With Butterflies
The key to attracting butterflies to your garden is what you plant in the garden, and the best place to start is with flowers.
But creating a butterfly friendly garden is more than just planting a bunch of flowers, then sitting back and waiting for the butterflies to show up. There are certain things you need to make sure to include in order to fill your flower garden with butterflies.
Don't worry, I'm going to make this really easy for you! The first step is coming up with your butterfly garden design plan.
How To Plan A Butterfly Garden
The great news is that you don't need to have a huge space in your yard to plant a butterfly garden. You can incorporate it into an existing garden space, or carve out a small area of your yard to create a new one.
Heck, you can even plant a butterfly friendly garden in containers on your deck or patio.
It's not the size of the garden that matters! But when you're planning your butterfly garden layout, there are a few important things to keep in mind.
Full sun location – Butterflies love the sunshine! They need the warmth from the sun in order to fly, and most adult butterflies will only feed in the sun. So make sure you plan to put your garden in a full sun location that gets at least 6 hours of sun every day.
Butterfly friendly flowers – Selecting flowers for your garden is one of the main things you'll want to focus on, so you need to know which flowers attract butterflies. Butterflies aren't attracted to every type of flower, so it's important to make sure you choose the best flowers to attract butterflies.
Constant blooms – Not only do you need to plant tons of flowers that butterflies love, but it's also important to make sure there's always something blooming in your garden. Butterflies won't be attracted to your garden if there aren't any flowers blooming.
Annual flowers make it a snap to create a garden that's constantly blooming. They are the main plants that I use to help fill my flower garden with butterflies every summer. Annuals are an essential addition to any butterfly garden because they flower continuously, giving butterflies an endless supply of nectar all summer long.
Planting groupings – When you're planning a flower garden with butterflies in mind, be sure to buy plants in groups rather than planting only one of each variety.
Grouping multiple plants of the same variety will make it much easier for the butterflies to find your garden, and will also encourage them to stay around longer. Grouping plants will make your garden look much fuller too.
Plant in layers – Basic flower garden design principles also apply to creating the perfect butterfly garden. When you're selecting plants for your garden, look for ones with different heights, colors and textures. Not only will your garden be more attractive to different types of butterflies, it will also be more attractive to humans!
Planting your garden in layers will give it the most impact. So plant the tallest ones in the back (or the center if your garden can be viewed from all sides), and layer the plants from tallest to shortest, with the shortest ones in front.
What Plants Attract Butterflies?
If you want to fill your flower garden with butterflies, the most important thing to think about is what plants attract butterflies.
You might be surprised to know that creating a butterfly friendly garden isn't ALL about the flowers! Here are some tips for choosing plants that attract butterflies.
Include butterfly host plants – What is a butterfly host plant? A butterfly host plant is a type of plant where butterflies will lay their eggs, and their larvae (caterpillars) will feed on as they grow.
A few great examples of host plants to include in your butterfly garden are dill, parsley or fennel for the black swallowtail butterfly, and milkweed or butterfly weed to attract monarch butterflies.
Incorporating a variety of butterfly host plants into your garden, as well as flowers, is a sure way to not only attract butterflies, but get them to stick around too (see, I told you it wasn't ALL about the flowers).
Use colors that attract butterflies – Like I mentioned above, butterflies aren't attracted to every type of flower, and color is one of the things that attracts them. Butterflies like bright flowers that stand out in the garden.
So red, yellow, white, orange, pink and purple are all great choices. Don't just stick with one color either, it's best to plant an assorted mix of colors to attract as many different butterflies as you can.
Choose a variety of plants – Planting a good variety of plants is a sure way to attract a bunch of different types of butterflies to your garden. A nice variety of plants also adds interest to your garden, and looks gorgeous too! Double bonus!
AAS Award Winning Plants That Attract Butterflies
There are tons of great plants to attract butterflies to your garden. So many that sometimes it can be overwhelming to figure out the best flowers to choose.
So I put together a list of a few of my top picks of AAS award winning flowers that would be great additions to the butterfly garden.
All of these plants will grow well in containers too, so you can use them in any butterfly garden design.
Echinacea Cheyenne Spirit – Echinacea (aka cone flower) is a fantastic plant for butterflies! Echinacea Cheyenne Spirit comes in a wide range of colors that would make a wonderful addition to any garden, perfect for attracting butterflies!
Sunflower Suntastic Yellow with Black Center F1 – Sunflowers are one of the very best plants for pollinators like butterflies. The thing I love the most about the Suntastic sunflower is that it's a dwarf variety that gets tons of flowers! Perfect for keeping the butterflies coming back all summer long. Sunflowers are super easy to grow from seeds too!
Salvia Summer Jewel™ White – Another fantastic addition to a butterfly friendly garden is Salvia Summer Jewel. It has cute little white flowers that attract butterflies and other pollinators, and it blooms all summer long. The butterflies love it!
Gaura Sparkle White – Gaura has dainty white flowers that are great for attracting butterflies to the garden. Sparkle White will bloom all summer long, making it a good butterfly garden plant. Plus, it's very heat tolerant too.
Penstemon barbatus Twizzle Purple F1 – With it's lovely clusters of bell shaped flowers, penstemon are pollinator magnets! Twizzle Purple gets constant flowers all summer long to keep the butterflies coming back for more! Great for adding height to your garden.
Salvia Summer Jewel™ Lavender – Another one of my top picks of award winning plants which attract butterflies (and part of the Salvia Summer Jewel series) is a major attractor of pollinators like butterflies. I really love the color of the lavender flowers on this one too! Learn how to grow lavender.
Zinnia Profusion Red – When you're looking for butterfly garden flowers, zinnias are a MUST! They are one of the best plants for butterflies, and my zinnias are always covered with them! Zinna Profusion Red is a compact plant that is disease resistant, and has constant blooms. The best part… it's a true red color that won't fade in the intense summer sun!
Zinnia Profusion Double Deep Salmon – As I already mentioned, zinnias are one of the best plants to use to fill your flower garden with butterflies, and Zinnia Profusion Double Deep Salmon is no exception. This gorgeous plant blooms from spring through frost, so it will be attracting pollinators to your butterfly for months!
Penstemon Arabesque™ Red F1 – Another fantastic plant that's covered all summer long with flowers that butterflies love! My favorite thing about this plant is the red and white flowers – they really stand out on the garden (and hummingbirds love them too)! Definitely one of the very best flowers for butterflies.
Butterfly Garden Tips
In addition to choosing the perfect butterfly garden plants and flowers, there are a few more things you can do to fill your flower garden with butterflies. Here are some butterfly garden tips that will keep them coming back for more!
Skip the pesticides – Pesticides are one of the biggest threats to pollinators like butterflies, so it's super important to skip the pesticides, especially toxic chemical pesticides, in your butterfly friendly garden. Keep in mind that even organic and natural pesticides can kill butterflies, so it's best to skip all forms of pesticides.
If you must use something, make sure you choose non-toxic, organic products, and use them selectively to target only the pest insect. Never spray or treat your entire garden (BTW, this advice holds true for any garden, not just butterfly gardens).
Provide extra food sources – Flowers will provide the food butterflies need, but you can also add special feeders to give them even more food sources, making your garden even more attractive to them.
Give them a place to rest – Butterflies like to have a place to rest while they are feeding, or warming themselves in the sun. Large rocks, decorative trellises or obelisks, or even a bench or a chair can provide a nice resting place for them (plus these decorative elements also add visual interest to your garden).
Wide, flat flowers are also the perfect choice, and will give the butterflies a place to sit and rest while they feed (and also provide tons of awesome photo opps for you!).
Provide a water source – Butterflies also need water to survive, especially during the hottest summer months, and giving them a water source in the garden will help attract them. A shallow bird bath or pond would be the perfect addition to your butterfly friendly garden.
Consider raising butterflies – Raising butterfly caterpillars inside the house is fun, and a great way to help increase the population of butterflies in your garden. It's especially easy to raise monarch butterfly caterpillars, and kids love it too!
Creating a flower garden with butterflies in mind is fun and so rewarding! Not only will you get to enjoy these lovely pollinators in your garden, but you'll be helping them out by creating a habitat for them.
And when you buy garden plants (and seeds) that are All-America Selections winners, you can feel confident that you're getting excellent quality butterfly garden plants that will bloom all summer long. For more plant suggestions, and to get updates about the latest AAS winners, follow them on Facebook, Pinterest, Twitter and Instagram.
More Posts About Garden Plants And Flowers
Share your tips for filling your flower garden with butterflies, or creating a butterfly garden, in the comments section below.
The photos of the plants used in this post were provided by All-America Selections and used here with permission.