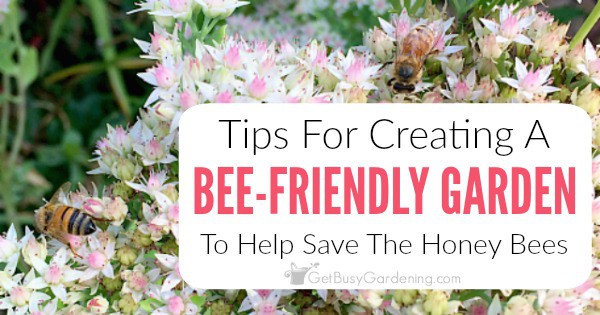 This is a sponsored conversation written by me on behalf of Beesponsible® and Bee Harmony. The opinions and text are my own.
Saving the bees is a HUGE topic these days, and it's a super important one. I want to do my part to spread the word about why honey bees need our help, and what we can do as gardeners to save the bees.
Honey bees are important pollinators, and bee population decline is a very concerning issue. I can't imagine life without bees! So, like I said, I want to do my part to spread the word (and hopefully you will too!).
So, when Beesponsible (an initiative started by Barkman Honey) reached out to me and asked me to write about why honey bees need our help, and how we can save the bees, I said heck yes!
How Bees Help The Environment
I'm guessing that you already understand why we need bees, but let's talk about a few statistics…
Honey bees are important because they pollinate flowers and food crops. They play a key role in producing many of the fruits and vegetables we eat every day.
How much of our food is pollinated by bees?
According to the Beesponsible website, 1/3 of our food production relies on pollination!
That's a pretty staggering number… but, bees are also an important part of the ecosystem as a whole. Honey bees pollinate many types of trees and plants that provide food and shelter for wildlife too.
Plus, they create all that yummy honey – and who wants to live without that? Not me!
What Is Happening To The Bees?
Two of the biggest contributing factors to honey bee population decline are pesticide use and loss of habitat.
Honey bees rely entirely on flowers for food, and native plants are one of their main sources of food.
As cities grow larger, and suburbia continues to sprawl, more and more of the honey bee's natural habitat is being stripped away every day.
Plus, as our populations grow, it puts more pressure on farmers to keep up with food production. More farms also means less natural habitat for the honey bees… and poisonous pesticide use is common practice in modern farming.
Honey Bees Need Our Help
If you're wondering how to help save the honey bees, there are tons of resources available to us! This is where Beesponsible comes in!
Living Beesponsibly means helping bees in many ways – obvious, subtle, big or small.
And, as gardeners, we play a key role in helping to save the bees. Together we can make a huge impact!
How Can We Help Save The Bees?
There are a few super important things that each and every one of us can start doing right now to help the bees.
Skip the pesticides: Pesticides are one of the biggest reasons for bee decline, so it's extremely important not to use any in your garden. Even organic pesticides can kill bees, so never do any broad application of any type of pesticides.
If you must use something to combat a pest problem that's out of control, be sure you know the pest you are fighting first. Then, choose an organic pesticide that doesn't have any residual effect, and use it to target the pest insects only. In many cases, hand-picking is the best solution to get rid of pest insects. No pesticides necessary!
Grow your own food: The more food you grow in your own garden, the less you rely on farming and commercial food production. Plus, growing your own organic food is much healthier for you and your family!
Add bee-friendly plants into your garden:  Yes, this is me giving you permission to go shopping for new plants! Look for flowers that attract honey bees when you're out shopping. Then simply incorporate them into your existing flower gardens, or use them to create a border around your vegetable garden that bees will flock to.
How To Create A Bee-Friendly Garden
The first thing to think about when creating a bee-friendly garden is what you will plant. Flowers are a no-brainer here of course, but bees aren't attracted to all types of flowers.
So, it's important to plant the right kinds of flowers. The ones that will draw bees to them like magnets.
Choosing the perfect plants for your bee garden sounds like it would be overwhelming, but it's actually really easy.
A sure way to attract bees to your garden is to plant flowers that are native to your area.
Many garden centers make this really easy for us, and they group native plants together for easy picking.
If you prefer growing vegetables, and you're not interested in creating a flower garden, you should still plant bee-friendly flowers.
Flowers attract pollinators like honey bees, and other beneficial insects to your garden. The more good garden bugs you attract to your vegetable garden, the healthier it will be, and the more food it will produce.
Win. Win!
Bee-Friendly Flowers List
To help get you started, I've put together a list of 15 bee-friendly flowers that I grow in my garden here in Minnesota. Beesponsible has a great list of flowers that attract bees by region to help you pick the right plants that will work in your garden too.
Bee balm plant
Anise hyssop
Purple prairie clover
Russian sage plant
Purple coneflower
Mint
Sunflowers
Black-eyed Susan
Sedum
Wild lupine
Liatris
Oregano
Wild geranium
Cat mint
Cosmos
Honey bees need our help and, as gardeners, we can make a huge impact in saving them! By adding plants that bees like, and creating a bee-friendly garden in your yard, you will be giving the bees a habitat with tons of food.
Knowledge is the first step in helping the bees. So spread the word about living Beesponsibly.
Educate your friends and neighbors about why honey bees need our help, and how every one of us can make small changes that will ultimately make a BIG difference.
More Posts About Flower Gardening
Share your tips for how to help bees in the comments section below.