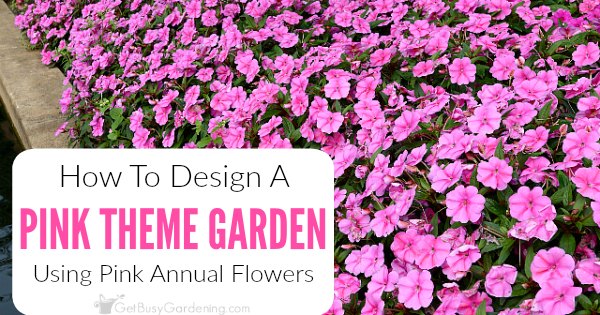 Themed gardens are a very popular trend these days, and I'm loving it! My favorite garden theme ideas are the ones based on a color scheme, and pink is one of the most common flower colors out there! So, in this post, I'm going to make it super easy, and show you exactly how to design a pink flower themed garden using pink annual flowers.
An all-pink garden might sound boring, but it's actually quite beautiful! And it's amazing how much variety you can create in flower gardens using only pink annuals.
A pink garden can be romantic and elegant if you use shades of soft pink flowers. Light pink flowers can also be very soothing, calming, and relaxing.
On the flip side, you could spice things up and create a very dramatic look using only dark pink flowers. Or you add bold pops of dark and hot pink flowers, mixed with various shades of light pink flowers. Gorgeous!
There are tons of pink flowers to choose from, which is awesome… but it can also be overwhelming. I'm always striving to make gardening super easy for you (and for me!). So this year, I'm teaming up with All-America Selections (AAS) to help make choosing plants for your flower garden simple.
Buying The Best Flowering Annuals
With so many plants to choose from at the garden center, how do you know you're getting the best value (and the best flowering annuals) for your money? Easy! Just look for the AAS logo on the label.
All-America Selections puts plants to the test so we don't have to. They select only the top performing plants to put their label on, which makes buying the best plants (and seeds) a no-brainer for us!
Plus, they have lots of great pink annual flowers to choose from! You'll find the list of my top picks below, but first let's talk about planning a pink garden design.
Theme Gardens Simplify Flower Garden Design
Creating a flower garden theme based on color is a great way for beginners to get their hands dirty (pun intended), and experiment with design. Sticking to a color theme really takes the pressure off, and makes plant selection a whole lot easier too.
When you stick to one color scheme in your garden, you don't have to worry about clashing colors, figuring out flower combos, or which colors look best next to each other.
You can simply focus on finding all the pink annual flowers that you like, and just ignore the rest.
It doesn't get much easier to design your own garden than that!
Planning A Pink Flower Garden Theme
If you want to try your hand at creating a pink flower theme garden, start with annual flowers. That way, it's easy to change it if you decide to play around with different color schemes next year.
Pink annual flowers are one of the easiest to start with, because it's a very common flower color. There are tons of pink flowering plants to choose from, so you can easily play around with texture and color in your pink theme garden.
Using annual flowers also helps you visualize the space before you create something permanent. And that will definitely make planning a pink garden much easier when it comes time to add perennials into the space (if perennial garden design is your long-term goal).
Plus, annual flowers bloom all summer long. So you don't have to worry about having a gap in time where there's nothing flowering in your garden (which is a very common problem when you use perennial flowers).
How To Create A Pink Garden Design
When you start paying attention to flowers by color, you might be surprised at all the different shades of pink you will find. It's pretty amazing when you see all the variety you'll be able to use in your pink garden theme.
Pink annual plants range in shades from hot pink flowers, to light pink flowers, to soft pink flowers… and everything in between. There are annual flowers that come in fuchsia, salmon, blush, rose… you name it!
You'll even find annual flowers with mixed colors, like pink and red flowers, or white and pink flowers. (see, I told you an all-pink garden wouldn't be boring!)
It's up to you to decide whether you want to mix in different shades of pink flowers, or if you'd rather try to stick with flowers that are all the same shade of pink. However you decide to design your garden, it will look amazing!
Choosing Plants For An All-Pink Garden
Whether you're sticking with one shade of pink, or mixing in different shades, buy plants for your garden in groups of three or five. Planting annuals in groups makes the garden look fuller, and when you use an odd number of plants, it's ends up being more interesting.
Another thing to think about when you're choosing your pink annual flowers is to look for plants that are different heights and textures. Using plants of varying heights, and mixing textures adds depth and interest to the garden.
Also, pay attention to the foliage when you're shopping for pink annual flowers. Plant foliage is another great way to add depth and contrast to a color-themed garden, making it even more beautiful. Heck, you might even find a few annuals that have pink leaves too. How fun!
Pink Annual Flowers List (My Top Picks)
There are tons of options when it comes to choosing pink annual flowers for your theme garden, which can be overwhelming.
So, I've come up with a list of annual plants that have pink flowers for you! These are all AAS winners too, so you know you'll be getting high quality plants!
When you create a garden theme based on the color of the flowers, you can't lose! Creating themed gardens based on the color scheme really simplifies garden design and plant selection.
Buying AAS winners makes plant selection even easier. Plus, you know that you're getting the best quality annual flowering plants, that will thrive all summer long. For more plant suggestions, and to get updates about the latest AAS winners, follow them them on Facebook, Pinterest, Twitter and Instagram.
More Posts About Garden Plants And Flowers
Share your favorite pink annual flowers or garden theme design tips in the comments section below.
All of the photos used in this post were provided by All-America Selections and used here with permission.